A Weekend Getaway at Maroelani Nature Reserve in Hoedspruit, Limpopo
A weekend in absolute bush bliss …yeap, that was our experience at Maroelani Nature Reserve for the entire weekend. I am telling you guys, this legit was the best bush break we have been on, and we love the bush.
The drive was quite long as we departed from Johannesburg and Hoedspruit is 5 hours away. Lucky for us, we got to travel in style and comfort on the Isuzu D-max and did I mention it was hot red in color? Just stunning.
The drive was lovely given the scenic beauty South Africa has to offer.
Maroelani Nature Reserve . . . a Luxurious & Romantic Bushveld Experience
Then we arrived, ohh it was just what we needed. Literally it is totally off the grid, we were welcomed by a roaming giraffe. As we got out of the car, our hosts were already awaiting us with cool snow white face clothes and sparkling wine.
They politely introduced themselves and welcomed us and showed us to the dining area. We had a very nice lunch overlooking the bush and then sipping on some gorgeous cocktails. We were then assisted to our rooms.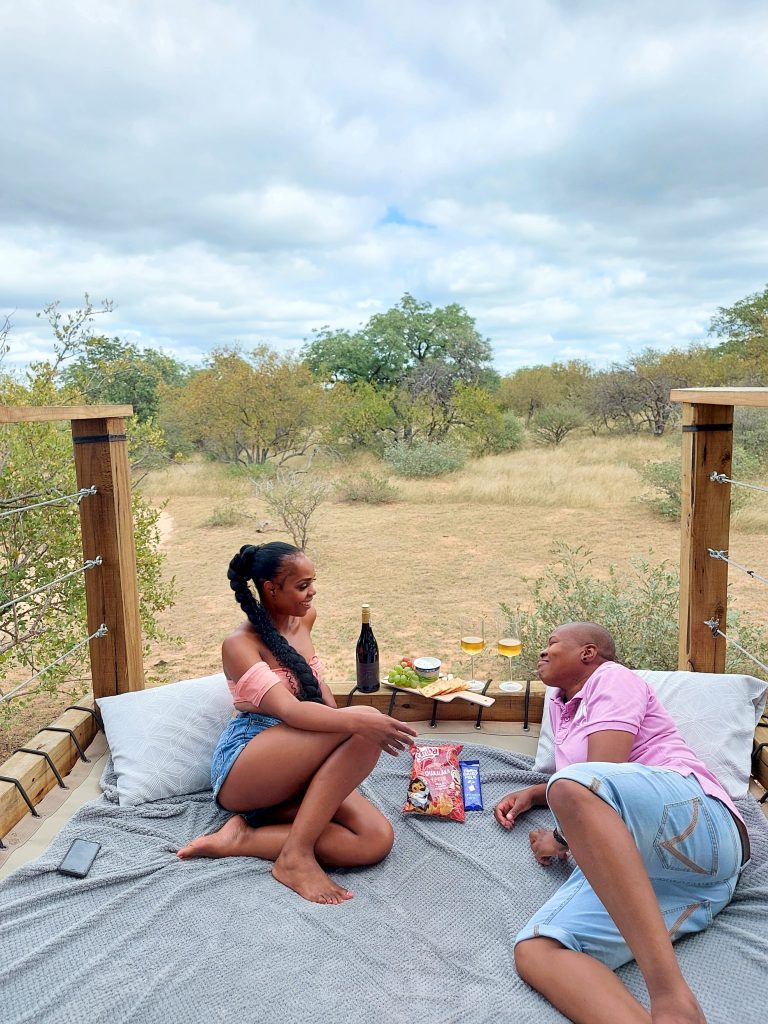 Our Treehouse at Maroelani Nature Reserve
We were staying at the tree house and it was absolutely stunning. We are talking outside shower overlooking the bush, a bath tub and very modern decorations.
We loved that the treehouse opens out onto a wood deck, that has a hammock, where you can enjoy the beautiful views whilst enjoying your drink of choice. The shower has a large see-through glass window where we got to enjoy stunning views of nature and the animals, as you enjoy the shower. Night showers are recommended as you can gaze out into the stars.
The treehouse was beautifully decorated, welcoming and very clean. They even made a welcome note, with our names on it, which was a very nice touch.
Things to do at Maroelani Private Nature Reserve
Enjoy a Couples Massage at Maroelani Nature Reserve
The masseuse arrived shortly after we freshened up to set up at our tree house. This was just perfect, imagine laying on a massage bed overlooking the bush whilst getting heavenly pampered.
The ladies who did the massage were great, and it was just super relaxing and just wonderful. It was exactly what we needed after our long drive, and to drive out thestress from the past few weeks.
Game Drives at Maroelani Nature Reserve
Straight after that we got ready for our sunset game drive which was so serene. The game drives are about an hour long and we had a stop for drinks where they laid out a table for us with cheese and crackers to enjoy whilst we take in the scenic beauty of the nature reserve. Let me tell you, wine goes down differently in such a beautiful setting.
There was going to be 2 more game drives scheduled for the Saturday morning, and night, increasing the chance of seeing even more animals. We didn't do the morning game drive, because we were tired, and seeing that I particularly am not a morning person, and it was happening super early, bae decided to skip it as well.
We later learned that we missed out . . . and of course, we did the afternoon game drive. More about that later.
Candle Lit Dinner Under the Stars at Maroelani Nature Reserve
We then make our way back for dinner and…wow, what an unforgettable experience. They had dinner under the stars set up for us. It was so romantic, picture a candle lit dinner in the bush. Just you and your partner, enjoying your 4 course meal under the stars with the sounds of hyenas serenading you as you whisper sweet nothings to each other. Also, I had the best butternut soup I have ever had in my entire existence. Right after dinner, we chilled at the bon-fire just taking in the breath taking environment and reflecting on the amazing day we have just had.
We were ready for bed around 9pm and when we walked into our tree house, they had made our bed, dimmed the lights and dropped the mosquito net to ensure our comfort. We indeed had a very peaceful sleep. Bae and I decided to skip the Saturday morning game drive because we were a tad tired from the long drive from Johannesburg. We slept in until around 8am then woke up and made some tea and just stood outside our tree house just taking in the stunning view. We then got ready for breakfast and again received the most welcoming greeting from the staff and were shown do the dining area and served very delicious breakfast.
Sunset Picnic by the Bush at Maroelani Nature Reserve
We had a chilled afternoon relaxing and enjoying the swimming pool, had a great lunch and then got ready for the game drive and picnic. We were picked up around 5pm and then enjoyed a brief game drive which led us to a beautiful picnic set up right in the middle of the bush. That was one of the most romantic settings I have ever experienced. We sipped on wine, nibbled on yummy snacks and marveled at the sunset. We then made our way back for dinner and enjoyed a lovely 4 course meal and then chatted the evening away at the bon-fire. Just like the night before, we got back to a fully made up room with some romantic tone.
We were bright up and bushy eyed for the morning game drive and truly enjoyed it. It was nothing short of beautiful to watch the sunrise, then of course stop in the middle of the reserve and enjoy some bush tea and then continue with the scenic game drive.
We went straight to breakfast from there…but first, we were welcomed with warm face clothes and ushered to the dining area. We had a lovely breakfast and then went back to start packing up for check out.
As you can tell, we had a full weekend, with zero minutes to waste.
Maroelani Nature Reserve was by far one of the best bush escapes we have experiences and the level of details and customer care was overwhelming. We do not only recommend the lodge but are also definitely going to go back in the future.